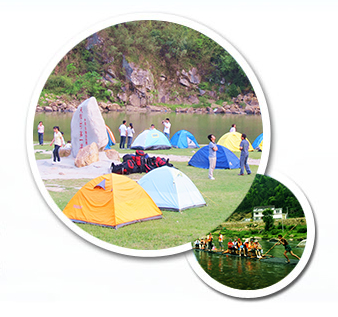 White Horse Lake, located in Hill County , Anhui Province Shuihou town, is the world geological park , China Tianzhu Mountain scenic area 5A western foot of the core area . Quaint riverside scenery and fresh style Dabie rich , harmonious blend of elegance Cantabile . Launched a new tradition raft " Nishun " modern boats drifting and drifting , allowing you to see the water riding the waves roar , close to Millennium mother .

Scenic river essence expand the extension of 20 li , the new cultural landscape and attractions than 20.

Such as Emei Shan , water if Lijiang , dangerous like the Three Gorges , the United States than in Taoyuan - Cowherd tryst mortal Taurus Gap, Dong Dongjiawan trunk in front of his hometown lake, open-air bath Elder brother Mei Xin crossing, rippling ladders rock deep Water Bay , the Millennium slate lotus fairy roadside river ...... more " six potential " high-speed bridge across the river , and the modern version of the QQ farm , so you dizzying, fugue which share endless, unlimited fun .

" Sommelier Dalmaji on tea and other flowers ." Relaxed and comfortable , safe and reliable Baima Lake raft , rafting , and expand outdoor , beach recreation, summer practice , sketching folk songs , wedding vacation, white collar " vegetables" , buy souvenirs , as well as rock climbing and horse racing farmhouse experience leisure , will not regret your choice . Southwest Anhui Anqing unique crispy farmhouse soup , wild tea , earth chickens and ducks, river fish , Mao fragrant cake, as well as wild fungus, mushrooms and fungus , etc., will allow you to eat appetizers , eat handsome and healthy.

Army to wear sandals , swim red spots , pursuing " snow Dabie Mountain ," the sublime story ; look at the new version of " Goddess Marriage " Joe beauty products two cultures , in the TV drama location to listen to the sound of water roar . You always have easy, just as the latent waves rippling river scene ; You always have a romantic , called " wise man happy water " eternal happiness ......

White Horse Lake scenic rafting with two large parking lot , scenic tourist highway connecting Shuihou cement streets State Road 105 , the local tourists take bus to reach urban and rural area, outside and medium-sized tourism parked vehicles and self-drive option on the pier, or in pier. Scenic service calls and versatile tourist reception center , ready to provide you with thoughtful and quality service.